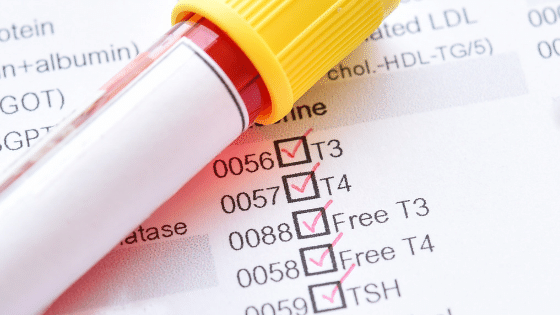 Comprehensive thyroid testing and expert guidance
"A comprehensive evaluation of thyroid function and and expert guidance for optimal health"
SUPERIOR TESTING
HEALTH OPTIMISATION THROUGH A NEW LENSE
Your journey to health may start with specific laboratory-based investigations.
This allows us to attain the crucial information required to develop an evidenced-informed, personalised approach to achieve your health goals.
COMPREHENSIVE THYROID TESTING
A comprehensive Thyroid Profile measures thyroid gland activity, peripheral conversion of thyroid hormone, and thyroid autoantibodies. According to the Journal of Endocrinology, standard measures of thyroid function may miss up to half the population.
In order to assess thyroid health properly, you must measure each step within thyroid function to ensure that the entire pathway is working effectively.
WHY TEST FOR THYROID FUNCTION?
Thyroid dysfunction is one of the most under-addressed conditions in healthcare. There are thyroid receptors on every tissue in the body, demonstrating its necessity for all systems. Thyroid hormones impact energy production, cognitive function, mood, emotions, concentration, memory, and attention.
COMMON SYMPTOMS
THYROID IMBALANCES CAN RESULTS IN A WIDE RANGE OF SYMPTOMS:
HYPOTHYROIDISM
Depression
Dry skin and brittle nails, or hair loss
Feeling tired or weak
Increased sensitivity to cold
Heavy or irregular menstrual cycles
Obesity
Joint Pain
Infertility
Constipation
Memory issues or unclear thinking
Hashimoto's
HYPERTHYROIDISM
Nervous or moody
Shaky hands, fast heartbeat
Sensation of being hot and sweaty
Increased bowel movements
Fine, thin hair, and hair loss
Weight loss without a change in eating patterns
Difficulty concentrating
Sleep problems or restlessness
Goiter or thyroid nodules
Weak, tired, fatigued
HOW AND WHAT IS MEASURED?
Once ordered by us, you will be given a requisition form for a simple blood test which can be performed at your local pathology lab.
It measures thyroid stimulating hormone, total and free T4, total and free T3, reverse T3, FT3:RT3 ratio, thyroid peroxidase (TPO) antibodies, anti-thyroglobulin antibodies, TSH receptor antibodies.
COMMON QUESTIONS
WHY DO WE NEED IT?
Your practitioner will decide if and when this test may be suitable for you.
Thyroid abnormalities are one of the most common endocrine disorders affecting millions worldwide.
Thyroid abnormalities are now considered a quiet epidemic worldwide. The thyroid has one of the most important jobs for the body to function properly. The thyroid makes hormones that regulate the energy level, growth, and reproduction of every cell of your body. Your brain, heart, lungs, liver, skin, tissues and other body parts depend on your thyroid to stay "powered up" and active, and to remain healthy by generating new cells to replace old ones.
WHY HASN'T MY DOCTOR DONE THIS TEST ON ME YET?
The conventional medical model is exceptionally good at managing acute illness. The test and interventions we are discussing here are not intended to replace your standard medical care. You should always follow the advice of your primary care physician for diagnosis and treatment of acute conditions and chronic diseases.
What we are looking at here, is the very different and complex scientific field of health optimisation. The goal of these tests is to detect imbalances (not to diagnose disease), correct these imbalances and work towards health optimisation.
INVEST IN HEALTH
AN IMPORTANT PIECE OF A COMPREHENSIVE WELLNESS PROGRAM
Due to the profound impact that this test can have on informing the short- and long-term treatment protocols, it forms an important piece of your larger health optimisation program.
Our goal is to:
DETECT: reveal hidden imbalances
CORRECT: with targeted nutrition and lifestyle interventions
OPTIMISE: with practical, systematic, personalised treatment plan based on your comprehensive health picture
With validated testing tools and using an evidenced-informed, personalised approach to your care, a strategic health optimisation program can be developed for you.
GET STARTED
HOW IS IT DONE?
A blood sample drawn at your local pathology lab. Once ordered through us, the test kit is delivered straight to your home. Just take the kit which includes the requisition form with you to have the blood drawn at your local eligible pathology lab (we provide you with a list of eligible labs).
WHAT HAPPENS FROM THERE?
Your test results will be sent to us within 2-3 weeks of you returning the sample. We will notify you once received and schedule a time for you to have your lab review consultation. This consultation can be in person at our North Melbourne clinic or electronically via our telemedicine service.
During the lab review consultation we will explain your results and recommend an individualised course of action for you including dietary, supplementation (if required), exercise and other lifestyle considerations. You will also be provided with access to our members area where exclusive members-only offers are available on resources and products.
COST
Lab Test: $230 incl. postage to your home
Initial Consultation: $495